Here's a quick Halloween recipe for you! Delicious Oreo cookies covered in white chocolate or candy melts and decorated to look like super cute mummies. These chocolate covered Oreo mummies are simple to make and make a great Halloween activity for kids. Make them for a Halloween party dessert table – your guests will love them!
You can either use melted white chocolate or candy melts, depending on the flavour you'd like (or what you have to hand). If you use white chocolate and want the mummies to be paler, just add some Colour Mill food colouring (or similar). White candy melts are already white and usually have a vanilla flavour which works well with the chocolately yumminess of the Oreos.
Here's the recipe for these easy chocolate covered Oreo mummies!
This blog may contain affiliate links through which, at no additional cost to you, I may earn a small commission. I only recommend products I would use myself and all opinions expressed here are my own. As an Amazon Associate I earn from qualifying purchases. Read full privacy policy.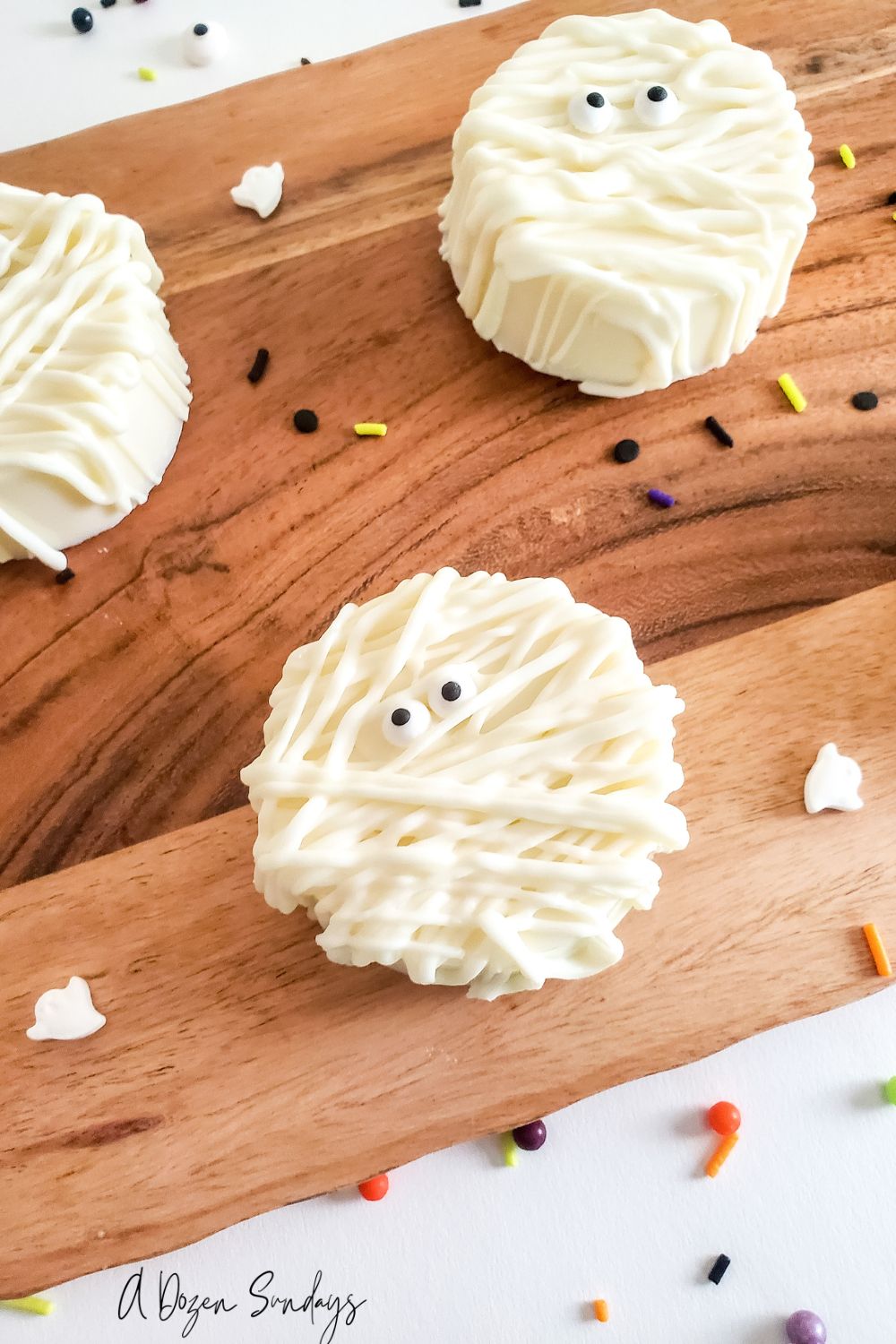 Easy Chocolate Covered Oreo Mummies
These easy no bake chocolate covered Oreo mummies are a perfect Halloween treat and can be made in advance. These are a great Halloween activity for kids as well!
Prep Time
30

minutes
mins
Total Time
1

hour
hr
30

minutes
mins
Equipment
Small Microwave Safe Bowl

Spoon
Instructions 
I like to work in sections and melt more candy as I need it. Melt some of the chocolate in the microwave by microwaving in 30 second increments, stirring in between each session. Remove bowl from microwave just before fully melted. Stir until smooth.

Alternatively, if you don't have a microwave, melt your candy melts or chocolate in a bowl over a pan of hot water. Make sure the bowl with the chocolate in doesn't touch the hot water and make sure the heat isn't too high or the chocolate will seize.

Drop about 30 grams of candy melt or chocolate into the bottom of the mould. Place an Oreo in the centre of the holes and press down slightly. Don't press too far that you'll see it when you take them out of the containers!

Spread more chocolate or candy melts on top. You can just cover the cookie to use less candy melt and make more candies, or you can fill it to the top of the container so that they are all consistently sized.

Set aside for the candy melts or white chocolate to fully set – this should take about an hour. Once the candy melts/white chocolate is set, you can remove the Oreos from the mould.

Melt about 60 grams of candy melts/white chocolate as you did before, and add about 1 teaspoon of vegetable oil to thin it out a bit.

Place the melted chocolate/candy melts in a piping bag and cut a small hole at the tip. Drizzle irregular strips across the covered Oreo. Feel free to add as much or as little as you want – there is no right or wrong with this! While the candy melts/chocolate is still wet, place the candy eyeballs in the top third of the mummy cookie.

Allow to fully set before eating!
Keyword
Chocolate Covered Oreos, Halloween Treat Ideas, No Bake Halloween Dessert, Oreo Mummies
Tried this recipe?
Mention @adozensundays or tag #adozensundays
I used a mould for this recipe to make sure the Oreo mummies came out nice and uniform, but if you don't have one don't worry. You can just dip the Oreos into the chocolate or candy melts, and then place onto some greaseproof paper to set.
You can use premade candy eyes or make your own from sugarpaste.
Are Oreos Vegan?
The Oreo cookies themselves don't have any animal derived ingredients however the Oreo website states "Oreo have milk as a cross-contact and therefore they are not suitable for vegans".
More Easy Recipes with Oreos
You might also like to try some other easy recipes with Oreos:
Chocolate Covered Oreo Spiders
---
---
---
---