35 of The Best Autumn Cookie Recipes
Autumn (or Fall) is the best time of year for beautiful baking! That's why you will love these easy Autumn cookie recipes. They are perfectly themed for Autumn and Winter, with flavours like chocolate, hazelnut, pumpkin, salted caramel, Nutella, and more. These are some of the best Autumn cookie recipes from the Internet's best bakers!
Best Chocolate Cookies
For these chocolate hazelnut cookies you can make your own hazelnut flour! Just blend them up into a fine powder. For best results use cooking chocolate over eating chocolate. They are equally as delicious as they are beautiful.
For these turtle cookies the recipe calls for all purpose flour aka plain flour, but you can sub cake flour (or self raising flour) if you enjoy an extra tender result. Make sure you don't use too much though because then they won't spread.
Chocolate Cookie Sandwiches filled with raw cookie dough are the best Autumnal cookies ever. The raw dough filling does not use egg so it's edible. They take 20 minutes to prep and 9 minutes to bake resulting in 12-14 sandwich pies.
If you adore rocky road, this Autumn dessert cookie is really going to impress you. These treats are great for the whole family and even parties or bake sales (because there's plenty of those in Autumn!). They're easy to prepare, made with boxed cake mix, and smothered in melty marshmallows.
Salted White Chocolate Chip Cookies are so scrumptious. You can have them after dinner, take them to bake sales, bring to cookie swaps, or give them as an edible gift. Important ingredients include unsalted butter, brown sugar, chocolate chips, and coarse salt for sprinkling on top.
Brookies are the best for Autumn because they're made from scratch and light and fluffy. All you need is white sugar, brown sugar, vanilla, eggs, flour, baking soda, baking powder, salt, chocolate chips, cocoa powder, corn starch, and butter! Yum.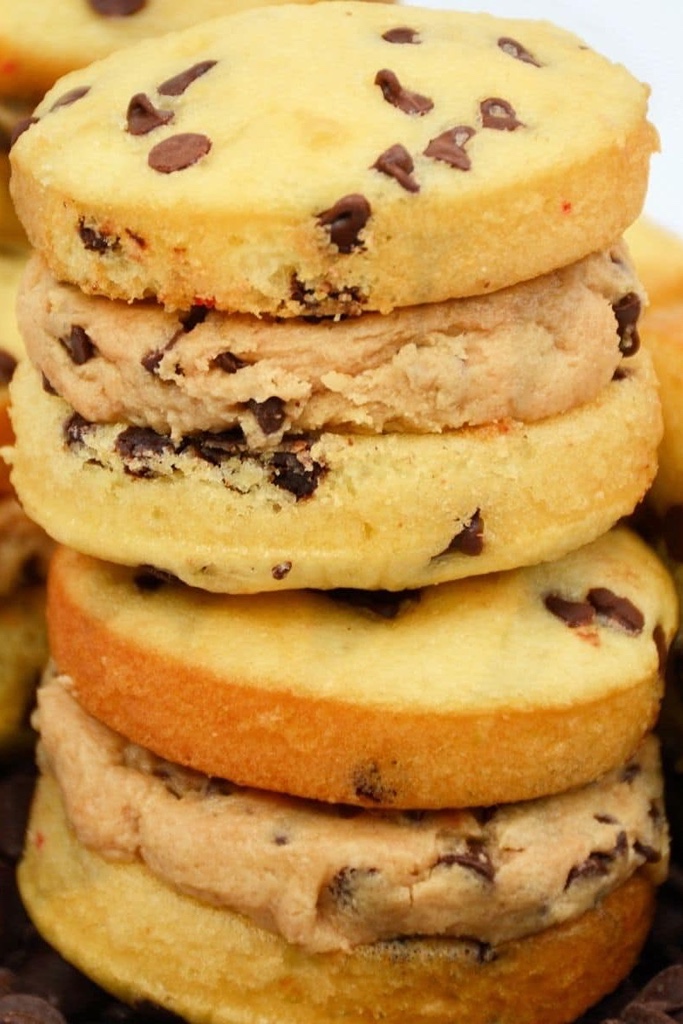 You will love these chocolate chip Whoopie pies because they are more than just a cookie. They are a sandwich cookie filled with yummy frosting. Nevertheless they are still a simple dessert made with everyday ingredients. Make sure you get your cookie scoop, piping bags, and tip.
If you love Rolo candies you will adore this dessert. The author recommends using parchment paper on the baking sheet to prevent sticking. After you bake them add the candies quickly (and carefully) so they melt just the right amount.
How gorgeous are these Nutellotti soft nutella cookies? They are essentially an Italian thumbprint cookie stuffed with Nutella filling. All you need for the scrumptious filling is Nutella, butter, powdered sugar, and heavy cream.
Best Pumpkin Flavoured Cookies
Who doesn't love sugar cookies? They're like a blank slate for desserts. You can add anything into them or on top. Like these maple glazed pumpkin ones with warming spices and shortening instead of butter to reduce the spreading of the cookie while baking.
I love snickerdoodles with a perfect combination of cinnamon and sugar then you add pumpkin in the mix and I am in heaven. Plus this recipe browns the butter which is next-level tasty. No mixer or dough chilling is needed either.
Let's normalize eating pumpkin flavoured desserts all year round! I thought the combination of pumpkin and maple was peak Autumn until I tasted pumpkin and cream cheese cookies! It's utterly the best, especially with a cup of coffee and a book.
Cookies for breakfast? I'm in! These cookies are chock full of Autumn flavours like pumpkin pie, cinnamon, nutmeg, and ginger. Not to mention oats, pecans, pumpkin and carrots for a hearty and healthy dessert you can snack on in the morning, noon or night.
Pumpkin Dulce de Leche Nutella Cookies are perfect for a crowd. What is dulce de leche anyhow? This caramelized milk syrup originates from Latin America and is created by slowly heating sugar and milk over multiple hours. It's absolutely mouth-watering in treats and desserts.
What are Kitchen Sink Cookies? This variety of cookie has a bunch of different kinds of ingredients- what's referred to as "everything but the kitchen sink." These also happened to be pumpkin flavoured – delicious!
Perfect for an Autumn brunch or party – these pumpkin chai spice treats are soft, chewy, and festive for the end of summer and start of Autumn. They're great for Halloween, Thanksgiving, and Christmas. I might even make this recipe for New Year's Eve!
How cute and dainty are these mini pumpkin Crumbl copycat cookies? It's easy to make the dough and the frosting. All you really need is shortening, egg, sugar, flour, vanilla extract, salt, baking powder, butter, maple syrup, and powdered sugar!
Best Cookies For Thanksgiving
I know Thanksgiving is a major holiday in the USA so here are some of the best cookies for Thanksgiving.
Apple Pie Filled Cookies with Cinnamon Glaze is a dessert to die for! This recipe takes 1 hour to prep, 20 minutes to cook, resulting in 10 scrumptious cookies. Equipment needed includes: a stand mixer, food processor, and silicone mould.
Make an apple pie cookie version that's a bit easier but just as delicious! This Autumn recipe is quick and fun using cake mix from the box and apple pie filling from the can. The caramel can be made from scratch though, if you have the time.
These loaded cranberry, orange and white chocolate cookies need no special equipment or ingredients! All you need is a mixing bowl, a cookie sheet pan, and a cooling rack. The edible gold dust and silver candies can be ordered online or found at your local grocery store.
If you're looking for the best dessert to serve to a crowd, these soft oatmeal cookies are sure to please. They're made with gooey caramel chunks, fresh apples, drizzled with Dulce de Leche. For best results use both Gala and Granny Smith apples.
Want an easy and healthy Autumn cookie recipe? This Cinnamon Sweet Potato treat needs only 3 ingredients! 4 if you add an additional sweetener. They're plant based and gluten free with sweet potato, almond flour, and cinnamon.
Best Creative Autumn Cookie Recipes
You will really impress your guests and loved ones with this recipe for copycat Churro Crumbls. Ingredients are simple, for example: softened and unsalted sweet cream butter, brown sugar, eggs, flour, cornstarch, cream of tartar, baking powder, baking soda, ground cinnamon, and salt.
These Biscoff butter cookies are the most scrumptious chocolate chip treats stuffed with Biscoff spread! They also have cinnamon, brown sugar, caramel and spicy flavor. Plus they are so gorgeous on a party platter or dessert charcuterie.
Are they cinnamon rolls or are they cookies? They're both! Despite they're beautiful design they're very easy to make. The cinnamon sugar filling is absolutely delicious too. They're ideal for almost any occasion you can think of!
Baking and Autumn go hand in hand. There's no better time to try something new than when the leaves are changing and the temp is getting cold outside. Serve up these Maple Cinnamon Star shaped desserts topped with pretty sprinkles for a real stunner.
How pretty and fun are these salted caramel heart centre snickerdoodles? The most important thing to remember is to ensure the temperature is right when making the caramel from scratch. Keep the heat at 245 degrees F or below.
Sweet, chewy, crisp, salty, creamy, and crunchy, these Twix cookies tick every box and more. And they're so simple to make. Just start with the base using ingredients like salted butter, granulated sugar, vanilla extract, baking powder, and all-purpose flour. Pro tip: use Kraft caramel bits.
Serve up some magnificent champagne sugar cookies. They take 10 to 13 minutes tops to bake – make sure not to overbake because they taste just lovely, slightly undercooked. This easy Autumn cookie recipe makes 24 portions.
Easy Autumn Cookie Recipes With Fruit
You should definitely make these Frozen Blueberry Cookies for the best fruit dessert. They have a unique flavour and delightful lavender colour for Autumn. In addition to blueberries they have white chocolate chips making them a lovely edible gift idea too.
I can't think of a better combination than raspberries and cheesecake, especially when you make it a cookie! For best results chill the dough for 30 minutes to 2 hours. This helps prevent spreading while in the oven.
If you like raspberries and chocolate then this is the easy dessert recipe for you. You'll need a mixing bowl, a hand mixer (or stand mixer), a saucepan, and a sheet pan. For best results use an electric mixer – don't mix by hand. Otherwise your raspberries won't immerse properly.
These beautiful Autumn cookies have the best design! They are shaped like caramel apples with delicious icing. Important ingredients you will need include: powdered sugar, meringue powder, and gel food colouring. The bright colours will put a smile on everyone's face!
Berry shortcake biscuits are fluffy, chewy, fruity, and tender. Make the base with simple pantry items like all-purpose flour, baking powder, salt, granulated sugar, and vanilla extract.
These Shortbread Biscuits are dangerous to have around. Between the white chocolate, tart cranberries, and perfect dough, they're crisp, buttery, and hard to resist. They are utterly ideal in the Fall with a hot cup of tea!
How Do I Make Sure My Cookies Are Soft And Chewy?
You can ensure your cookies are always soft and chewy by using top-quality ingredients and incorporating them properly. For example, choose the right flour and sugar – and always sift them. Make sure they are not expired. Also cream the sugar and butter before beating in the eggs. Lastly, always fold in the flour. Bake the cookies for the correct length of time, and allow to cool before moving.
These easy Autumn cookie recipes are the best treats for the changing season. From chai and pumpkin to cranberry and pumpkin, we've got Autumn cookies covered! You might also like to try some of our other cookie recipes:
You might also like Easy Royal Icing for Cookie Decorating if you want to ice some cookies this Autumn.
Do you have a favourite Autumn cookie recipe? Let me know in the comments!
---
---
---
---