What's the best thing to do with leftover cake? Make cake pops of course! Here's an easy cake pops recipe made using just 5 ingredients.
You don't have to bake a cake especially for cake pops (although you can if you like). You can use offcuts, leftovers, cupcakes – anything really – to make these easy cake pops. I made these using the offcuts from the red velvet mini cakes I made earlier.
This blog may contain affiliate links through which, at no additional cost to you, I may earn a small commission. I only recommend products I would use myself and all opinions expressed here are my own. As an Amazon Associate I earn from qualifying purchases. Read full privacy policy.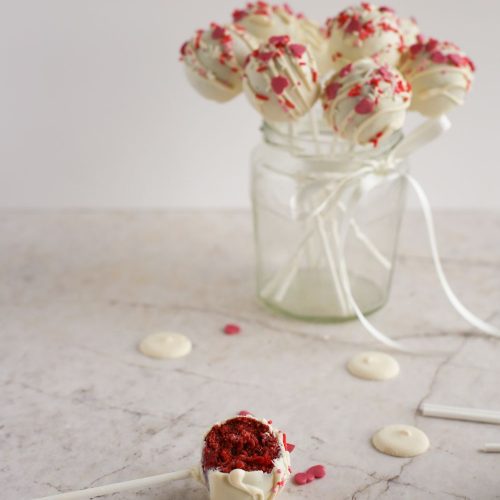 Easy Cake Pops Recipe
Made using cake leftovers, these delicious little cake bits are so easy to make and you can decorate them in so many ways! Here I used leftover Red Velvet cake and white chocolate ganache to make some simple Valentines Day cake pops.
Prep Time
10

minutes
mins
Chilling Time
1

hour
hr
20

minutes
mins
Total Time
1

hour
hr
30

minutes
mins
Equipment
Mixing Bowl

Small saucepan

Greaseproof Paper

Small Bowl

Baking Sheet
Ingredients  
White Chocolate Ganache
100

grams

white chocolate

35

mililitres

double cream
Instructions 
The first job is to make the chocolate ganache. Break the white chocolate into chunks and put in a bowl. Put the double cream in a saucepan and bring to the boil before pouring over the white chocolate. Stir the mix until it's combined and then set aside. Don't let this set too hard – you want it to be the consistency of peanut butter so you can mix it into the cake.

Take your cake leftovers and crumble them into a mixing bowl, making sure there aren't any large chunks. You can use your hands or a fork for this job.

Add the ganache to the cake crumbs and mix through, squeezing the mixture to make sure it's really well combined.

Form balls weighing about 30g and put them on a baking sheet covered in greaseproof paper. You should get 10.

Put them in the fridge to chill for an hour.

After about 50 minutes, melt your candy melts gently, either using a microwave on 10 second bursts or using a bowl over a small pan of boiling water. When they are melted, take your cake pops out of the fridge.

Gently reshape the cake pops if needed – depending on the consistency of your cake pop mix when they went in the fridge they may have "drooped" and need rerolling a little.

Dip one end of a lollipop stick into the candy melts and then insert into the cake pop balls. You might want to rest them in a cup or glass to keep them upright.

Let them chill in the fridge for 10 minutes to set the candy melts.

Add a teaspoons of oil of the candy melts to thin it down a little bit.

Take the cake pops out of the fridge. One by one, dip them into the candy melts mixture, tapping the stick on the edge of the bowl and turning the cake pop as you do, to get any excess candy melts off. Put your finger on the lollipop stick and twist the stick to get a nice neat finish on the cake pop.

The cake pop coating should be set within an hour. When it's set, remelt the candy melts mixture if you need to. Spoon some into a piping bag and drizzle over the cake pops. Add some sprinkles to the top and voila!
Keyword
Cake Pops, Cake Pops Recipe, Cake Pops Recipe UK, Cake Pops With Leftover Cake, Valentines Day Dessert
Tried this recipe?
Mention @adozensundays or tag #adozensundays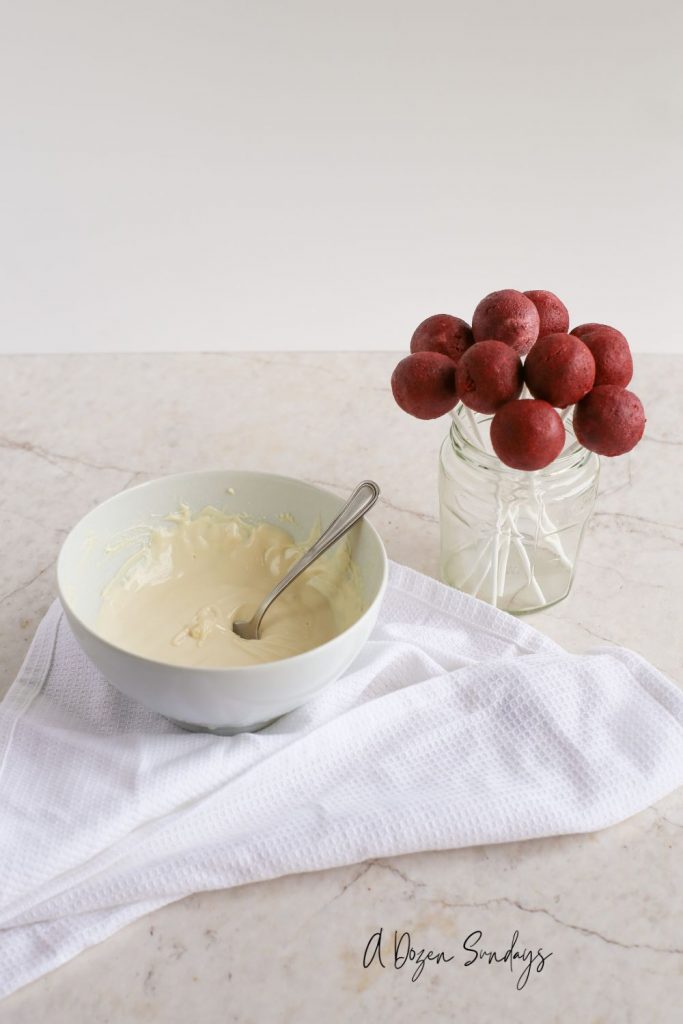 How to Store Cake Pops
The cake pops can be stored at room temperature in an air tight container. They will last for up to a week once they have been made.
How to Transport Cake Pops
If you need to transport cake pops, they will be absolutely fine laid down in a tupperware or other container once the candy melt coating has set.
Can You Make Cake Pops in Advance?
Yes! You can make these and freeze them for up to 6 weeks. Just make sure you give them time and space to thaw out before you enjoy them.
I'd love to see if you make these! Tag me on Instagram @adozensundays
---
---
---
---