Easter eggs seem to be in the shops earlier and earlier each year and I was very pleased to see the arrival of Mini Eggs last week! I was having a think about Easter cupcakes ideas and decided to make some simple Mini Egg cupcakes.

These cupcakes are made with an easy vanilla cupcakes recipe, vanilla buttercream, chocolate buttercream and, of course, the Mini Eggs. You may want to buy extra Mini Eggs as they're very moreish!
I decided to go for a classic Easter nest design, with chocolate buttercream for the nest and buttercream grass surrounding it. Here's the recipe for these easy Mini Egg cupcakes – hope you make them!
Mini Egg Cupcakes for Easter
These delicious Mini Egg cupcakes are so quick and easy to make! Using a classic vanilla cupcake as a base, the topping comes together quickly and these Easter cupcakes will make a perfect Easter treat (because you can't have Easter without cupcakes!).
Prep Time
15

minutes
mins
Cook Time
20

minutes
mins
Total Time
35

minutes
mins
Ingredients  
For the Cupcakes
170

grams

caster sugar

170

grams

Stork or buttercream

3

medium

eggs

225

grams

self raising flour

1

teaspoon

vanilla extract

1

tablespoon

milk

80

grams

Mini Eggs
For the buttercream
150

grams

unsalted butter at room temperature

300

grams

icing sugar, sifted

1

teaspoon

vanilla extract

white food colouring

green food colouring

1

tablespoon

cocoa powder
Instructions 
In a stand mixer, or large bowl using a hand mixer, cream together the Stork/butter and caster sugar until light and fluffy.

Crack the eggs into a jug and lightly whisk. Add the eggs to the butter and sugar mix, then the vanilla extract, and mix until well combined.

Add the flour, mixing until only just combined. Using an ice cream scoop (for level cupcakes) or a spoon, divide the mixture between the cupcake cases. They should each be about 2/3 full.

Bake the cupcakes for 18-20 minutes or until they're firm to touch and golden brown in colour. As this is a Madeira cake recipe, the cupcakes will not be as pale as other recipes. Allow to cool in the tin for a couple of minutes, then lift them out (I like to stab them with a fork and lift them out of the baking tin) and put them on a wire rack to cool completely.

Whilst the cupcakes are cooling, make your buttercream. Put the butter in the bowl of a stand mixer and gently beat until soft.

Start adding your icing sugar, a little at a time until it's all combined. Add the vanilla extract and white food colouring to give a base colour.

You'll need to colour up buttercream for the nests and the grass. Divide the buttercream in half and colour half brown using the cocoa powder and half green using green gel food colouring. For pastel colours, use the gel colour sparingly as you can always add more if you want a stronger shade. Put the brown buttercream into a piping bag with a Jem 2D Nozzle and the green buttercream into a piping bag with grass piping nozzle.

Pipe a brown swirl into the centre of each cupcake. Next, pipe grass around the brown swirl to replicate grass. Add 3 Mini Eggs to the centre of the brown swirl and voila! Easy Easter cupcakes!!
Keyword
Easter Cupcake Ideas, Easter Desserts, Easy Easter Cupcakes, Mini Egg Cupcakes, Recipe for Easter Cupcakes
Tried this recipe?
Mention @adozensundays or tag #adozensundays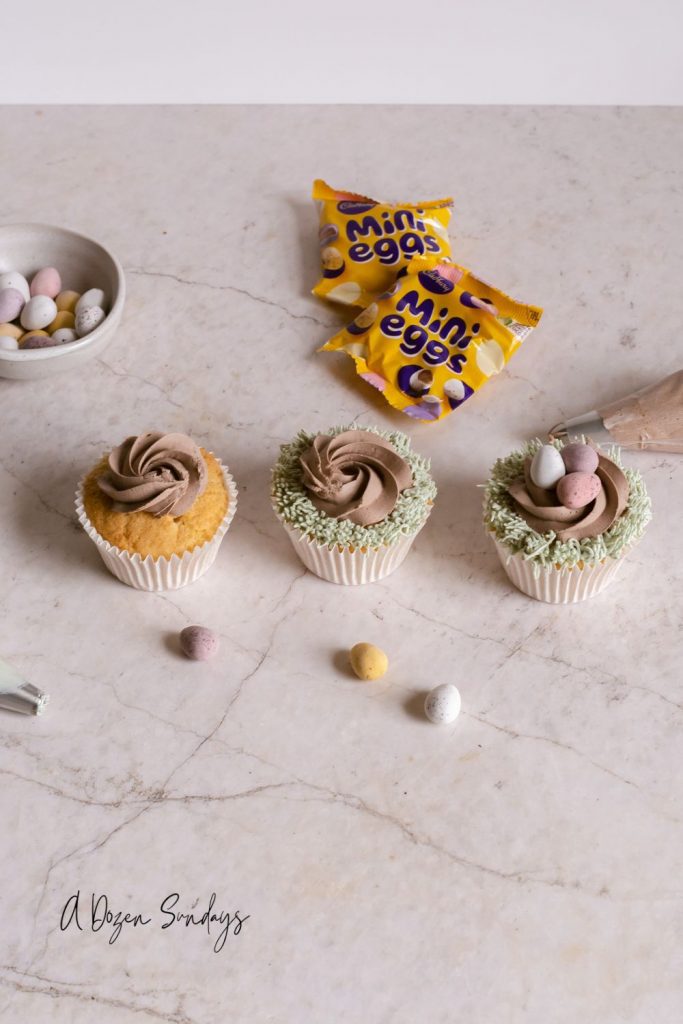 These cupcakes taste best on the day that you bake them, but they will keep in an air tight container for up to 5 days. You may also freeze the cupcakes, but allow them to stand at room temperature for at least a couple of hours before serving, and be aware that the cupcake wrappers may peel off due to the condensation.
For more easy cupcake decorating ideas, why not try Robin Egg Cupcakes, Easy Monster Cupcakes for Halloween or Easy Witch Hat Cupcakes for Halloween?
For more Easter baking ideas, you might like Mini Egg Brownies.

---
---
---
---